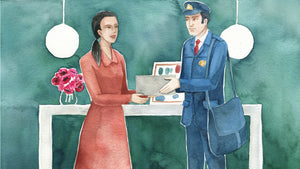 Our Promises

We deliver most orders within 7 to 14 days - our average turnaround is 9 days
Delivery is free to England and Wales on all orders and free to Scotland on orders over £450 - see other charges below
We can can ship everywhere in the world! See guide charges below or get in touch for accurate information
You can return items within 14 days but you must keep all original packaging and cover any return carriage fees. See details.
Breakages during delivery are rare but if that happens, we'll replace the item(s) free of charge!
Free delivery and any charges due
Any charges we have to apply are shown below. We use high quality delivery options that are the safest and most cost effective of any of our competitors.
When checking-out, please select the correct option to avoid a delay with the shipment of your order. UK-specification goods (e.g. UK plugs) will be sent to all overseas customers - we cannot customise items to match local standards e.g. electronic items. Please contact us if you need help.
Prices shown below are for small items/large and fragile items
(small items include accessories and table lamps and large items include all mirrors and all furniture. If buying multiple small items, we may have to charge the large item fee - ask us for details, or we'll be in touch after checkout if this is the case).
United Kingdom
England and Wales (excl. Congestion Zone)
Free
London Congestion Zone
£15
Scotland (excl. Grampian, Highlands & Islands)
£13/£40 (free on orders over £450)
Northern Ireland
£25/£110
Gibraltar, Jersey, Isle of Man and Guernsey
£35/£130 (guide only - please contact us)
Grampian, Highlands & Islands
Please contact us for an accurate quote
Everywhere else
These costs are a guide only - please contact us for an accurate cost
Republic of Ireland
£40/£150
France, Germany, Belgium, Netherlands, Portugal and Spain
£40/£150
Central & Eastern Europe
£50/£170
Switzerland
Contact us
Australia
£65/£195
USA and Canada
£150/£600
Rest of world
Contact us
EU customers
Deliveries to EU countries are now treated as exports and require additional customs processes. As such, the EU delivery above are a guide. Get in touch with us and we'll be able to advise on the costs to deliver to you, including the product cost without UK VAT applied, the shipping fees, any customs duties that you may need to pay (there usually are none) and the VAT/sales tax that you will pay upon delivery – based on the prevailing VAT/sales tax rate in your country.
Preparing for delivery
We typically deliver orders within 7 - 14 days (a little longer to deliver large, fragile, heavy and awkward items as we need to use specialist delivery companies).
If items are out of stock, we will notify you and confirm expected delivery timescales. The free standard delivery option takes place weekdays at any time between 8am and 6pm. If you need your item quickly, please let us know and we'll do our very best to meet your needs. Delivery before 9am, 12pm and on Saturday is available for a small additional fee.
When your order is being prepared for dispatch, we'll email you. If delivery takes longer, we'll contact you to confirm an ETA. Delivery will be made to the ground floor only - we may be able to arrange delivery to a room of choice (using a two-man team) for an extra charge so please contact us before purchase if this service is needed. Please tell us if we're delivering to an apartment on a high floor.
Some larger items will be delivered by carriers to the kerbside or entrance door of your dwelling, or to the front door of your apartment building. This may happen if you're in a location that's a long distance from our base and where we don't have our own drivers in your area. Please contact us in advance to check if this may apply to you - our customer care team is always here to help!
If delivery fails...
If you're not in on the day/time we have agreed with you, we may have to charge a redelivery fee as the item has to be returned to us at a cost.

When it arrives...
As soon as the item(s) arrive, please check them thoroughly. It's rare, but items can sometimes be damaged on their way to you. Please let us know within 24 hours of receiving your item of any damage so that we can collect and replace the item(s) quickly for free.
We operate a 14 day returns policy. If, for any reason you wish to return your item(s), just let us know within 14 days of receiving your order and we'll start the return. You can return it yourself, or have us collect it for a fee that can be deducted from the final refund. You must keep the items' packaging until you know you'll be keeping them.
Some items may require minor assembly - we're sorry our drivers cannot assist with this due to insurance purposes. If you have any questions about the possible assembly requirements of your item, please get in touch before purchasing. We strongly suggest you check every part of items that require minor assembly before you construct them or dispose of packaging as not doing so may affect our ability to accept a return/replacement request.
Collecting yourself
Prefer to collect your order? That's fine! Our HQ is open (by prior appointment) weekdays between 9am and 5pm and we can also arrange to open up on Saturday if that's more convenient.
We may need to undertake additional address verification checks prior to collection of orders paid for by debit or credit cards. Please also bring photo ID, such as a passport or driver's license.
When items are collected, they will have been checked and assumed to have been collected in perfect condition. We cannot accept any responsibility if the item is found to be subsequently damaged following its arrival at the final destination if we didn't deliver it.
Cancellations and returns